Questions

The descriptions of the some of the ME state they can measure dirty electricity.   Here it the wordage used in the description:   It's very accurate and picks up just about everything in its advertised frequency range of 5 Hertz to 100,000 Hertz (100 kHz)
How would you measure dirty electricity using these meters?
I purchased but not received it yet this meter, should I return it and get one of the ME meters?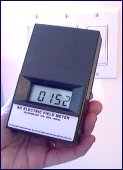 digital electric field meter.
Here is the Range stated Sensitive from 1 - 19,999 V/m. 2% accuracy from 40 Hz to 20 kHz, but can be used up to 100 kHz.